Gov. of Virginia
Commander
49th Virginia
Infantry
Post War
Memoirs of William "Extra Billy" Smith
<![if !vml]><![endif]><![if !vml]> <![endif]>

SMITH'S BRIGADE MARKER AT CULPS HILL-GETTYSBURG
MAJ. GEN. WILLIAM SMITH'S SIGNATURE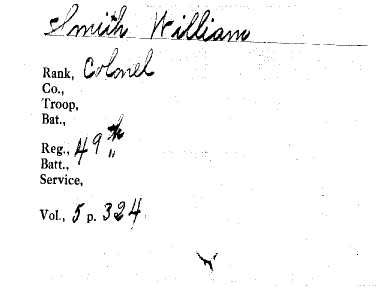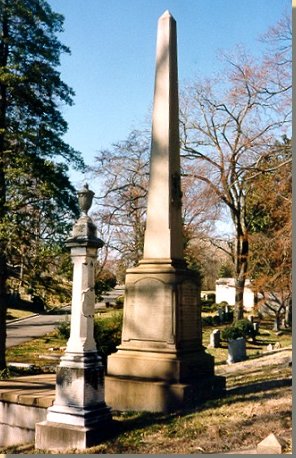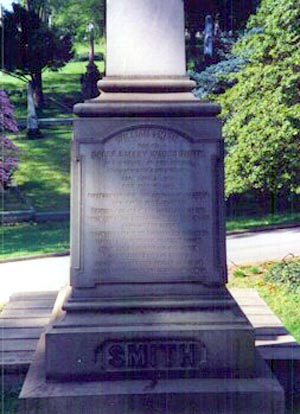 MAJ. GEN. WILLIAM SMITH'S GRAVE
HOLLYWOOD CEMETERY, RICHMOND VA.
49th Virginia at Sharpsburg, 1862
First Use of a Spencer Rifle by a Confederate Soldier
Sergeant W.O. Johnson, Company C; 49th Virginia Infantry
Read Article by Tony Beck; Page 4 yellow highlight
"Spencer's Repeaters in the Civil War"
By Tony Beck
William "Extra Billy" Smith was born on September 6, 1797 in King George County, Virginia. He was educated in Virginia and Connecticut and in 1818 began a law practice in Culpepper, Va. He built a beautiful brick home in Culpepper and settled down to practice law.
In 1827, William Smith began a mail-coach service from Washington, D.C. to Milledgeville, Georgia. Smith expanded the route and claimed many "extra" mail payments, instigating his nickname of "Extra Billy."
Smith had a very successful political career, serving five terms in the Virginia House, and two terms (1846-1849) and (1864-1865) as Governor of the State.
Smith was "trained" as a politician not a soldier and had a certain disregard for West Pinter's (Pointer's) and formal military tactics. There was never a moment's doubt however, as to what the old general wanted the men to do. General Smith's courage more than made up for his lack knowledge in formal military doctrine. Between the Peninsula Campaign and Sharpsburg, he was wounded five times and made the 49th Virginia, or his "boy's" known to the entire Army of Northern Virginia for their bravery.
On January 1, 1863, Smith was commissioned a Brigadier General, and his brigade consisted of the 13th, 49th, 52nd, and 58th Virginia regiments. He won laurels at Gettysburg and on August 30, 1863, he was sent on a "speaking tour" on behalf of new amnesty and furlough laws. He resigned from military service on December 31, 1863 to become Governor of Virginia
(2nd term) and served until the fall of Richmond. At the end of the war, he was paroled and returned to his estate near Warrenton. At age eighty, he was once again elected to the Virginia House of Delegates for the 1877-1879 term.
William Smith died on May 18, 1887 at the age of ninety. He was widely acclaimed and mourned throughout the state. The Warrenton Index paid this tribute to him: "A State Senator of the olden times, this grand commoner, twice filling the Gubernatorial chair and five terms a seat in the halls of Congress; this untrained soldier, holding undisciplined troops to posts of duty under deadliest fire by force of his magnetic presence and sight of the snow white plume beneath his chapeau..."
The 49th Virginia Infantry Regiment, C.S.A. was the pride and joy of the 64 year old ex-governor of Virginia, William Smith. "Extra Billy Smith's Boy's" as the 49th came to be known, was originally recruited from Warren County VA, part of the "Warren Blues." The 49th Virginia participated in all major actions of the Eastern Theater, beginning with an initial group of some 210 recruits, who participated in the 1st Battle of Bull Run or Manassas.
The 49th Virginia Infantry regiment was made up of men from Warren, Amherst, Prince William, Fauquier, Rappahannock, and Nelson counties. The 49th served in all major battles in Virginia, Maryland, and Pennsylvania. At the Battle of Seven Pines, the 49th suffered 55% casualties. By the time of Appomattox in April of 1865, there were only 54 men and two officers left to be paroled.
List of major battles and the days in which the 49th Virginia was engaged is as follows:
| | |
| --- | --- |
| | First Bull Run (First Manassas) July 21, 1861 Confederate Army Order of Battle & Reports |
| | Williamsburg May 5, 1862 |
| | Seven Pines May 31, 1862 |
| | Fair Oaks June 1, 1862 |
| | Oak Grove June 25, 1862 See Confederate Reports for Seven Days Battles |
| | Seven Day's Battle June 26-July 1, 1862 See Confederate Reports for Seven Days Battles |
| | 2nd Bull Run (2nd Manassas) Aug. 29, 1862 Army of Northern Virginia Order of Battle |
| | Sharpsburg (Antietam) Sept. 17, 1862 Army of Northern Virginia Order of Battle |
| | First Fredericksburg Dec. 13, 1862 Army of Northern Virginia Order of Battle |
| | Chancellorsville May 1-4, 1863 Army of Northern Virginia Order of Battle |
| | Second Fredericksburg May 4, 1863 |
| | Gettysburg July 3, 1863 Army of Northern Virginia Order of Battle |
| | Wilderness May 6, 1864 Army of Northern Virginia Order of Battle |
| | Spotsylvania Court House May 12, 1864 Army of Northern Virginia Order of Battle |
| | Bethesda Church May 30, 1864 |
| | Cold Harbor June 2, 1864 Army of Northern Virginia Order of Battle |
| | Winchester (Opequon) Sept. 19, 1864 2nd Corps, Army of Northern Virginia - Synopsis |
| | Cedar Creek Oct. 19, 1864 2nd Corps, Army of Northern Virginia Order of Battle |
| | Fisher's Hill Sept. 23, 1864 2nd Corps, Army of Northern Virginia, Rodes Division Report |
| | Hatcher's Run Feb.6, 1865 2nd Corps, Army of Northern Virginia - Synopsis |
| | Fort Stedman March 25, 1865 3rd Division, Army of the Potomac, Hartranft's Division Report |
| | Surrender at Appomattox April 9, 1865 Appomattox Campaign March 25 - April 9 |
►At 1st Manassas, 1861; Companies A,C,D,G,H, K were attached to Jackson's Brigade under Col. William Smith who later, after the battle, formed the 49th Regiment of Virginia Volunteers
►At Antietam (Sharpsburg), 1862; 49th Virginia was in Jackson's Corps; Ewell's Division; Early's Brigade
►At 2nd Manassas, 1862; 49th Virginia was in Jackson's Corps; Ewell's Division; Early's Brigade
►At Fredericksburg, 1862; 49th Virginia was in Jackson's Corps; Ewell's Division; Early's Brigade
►At Chancellorsville, 1863; 49th Virginia was in Jackson's Corps; Early's Division; Smith's Brigade
►At Gettysburg, 1863; 49th Virginia was in Ewell's Corps; Early's Division; Smith's Brigade
►At Cold Harbor, 1864; 49th Virginia was in Ewell's Corps; Early's Division; Pegram's Brigade
►At The Wilderness, 1864; 49th Virginia was in Ewell's Corps; Early's Division; Pegram's Brigade
►At Spotsylvania Court House, 1864; 49th Virginia was in Ewell's Corps; Early's Division;
Pegram's Brigade
Go to the Original Company Rosters Page